Tuesday 1st May – Dancing at Dawn
in Croydon Town Centre
---
Saturday 5th May – May Queen Crowning
1.30pm Warlingham Green, Warlingham, Surrey
---
Saturday 12th May – North Wood Day of Dance with Guest Sides
9.30am The Oxted Inn, 4 Hoskins Walk, Oxted, Surrey RH8 9HR
10.35am The Carpenters Arms, 12 Tally Road, Limpsfield Chart, Surrey RH8 0TG
12noon The Cock Inn, Ide Hill Road, Ide Hill, Kent TN14 6JN
1.00pm The Greyhound, Charcott, Leigh, Tonbridge, Kent TN11 8LG
2.00pm The Wheatsheaf, Hever Road, Bough Beech, Edenbridge, Kent TN8 7NU
4.05pm The Stanhope Arms, Church Road, Brasted, Kent TN16 1HZ
---
Sunday 20th May – Dorset Road Allotments Open Day
1.00pm Dorset Road, Elmers End, Beckenham, Kent BR3 4EA
---
Thursday 14th June – Oval Tavern
7.45pm Oval Tavern, 131 Oval Road, East Croydon, Surrey CR0 6BR
---
Thursday 5th July – The Westerham Brewery Open Evening
7.45pm Beggars Lane, Westerham, Kent TN16 1QP
---
Sunday 8th July – Greenwich Morris Men Day of Dance
We start at noon at or near the Cutty Sark Gardens. After that we may dance in the grounds of the Naval Cottage on our way to perform at the Cutty Sark Tavern and the Pelton Arms.
Schedule subject to Morris Time but we expect to be dancing until around 4 o'clock (somewhere), just listen for riverside music and merriment!
---
Wednesday 18th July – An Evening with Marlings Morris
8.00pm The Queen's Head, 13 High Street, Nutfield, Redhill, Surrey RH1 4HH
---
Thursday 19th July – Harrow Inn
7.45pm The Harrow Inn, 309 Farleigh Road, Warlingham, Surrey CR6 9EL
---
Wednesday 25th July – Dog and Bull
7.45pm The Dog & Bull, 24 Surrey Street, Croydon, Surrey CR0 1RG
---
Thursday 2nd August – The Fox
7.45pm The Fox, Coulsdon Common, Fox Lane, Caterham, Surrey CR3 5QS
---
Sunday 12th August
12.45pm The Bell, (aka "The Rat"), Withybed Corner, Walton on the Hill, Surrey KT20 7UJ
1.45pm The Sportsman, Mogador Road, Lower Kingswood, Surrey KT20 7ES
---
Tuesday 21st August – Croydon Night of Dance
A spectacular evening with Croydon's other two dance side and a dozen visiting troupes. The action starts at 7pm but the schedule is not yet published. Head for Addiscombe and listen for the music!
Dancing will be at and around:
The Builders Arms, 65 Leslie Park Road, Croydon, Surrey CR0 6TP
The Oval Taven, 131 Oval Road, East Croydon, Surrey CR0 1RG
and for the first time, The Orchard, Cherry Orchard Road, CR0 6BA
Provisional schedule, please check again nearer the time. Also more on Facebook
---
Saturday/Sunday 1st/2nd September – North Wood Weekend of Dance with Guests sides Calais & Boulogne-sur-Mer France
10.00am Dancing at the Market, Marche au Place D'Armes 62100 Calais, France
12.15pm Dancing in front of the Devant le Grand Theatre, Calais, France
1.30pm St Joseph Village, 2450 – 1er Banc "Le Marais" 62340 Guines, France
5.00pm Cite Europe, 1001 boulevard du Kent 62902 Coquelles Cedex Calais, France
Sunday 11.15am – 2.00pm Boulogne-sur-Mer, Dancing around the Old Town, France
---
Sunday 23rd September
12.45pm The Wheatsheaf, Hever Road, Bough Beech, Edenbridge, Kent TN8 7NU
1.45pm The Castle Inn, Chiddingstone Rd, Chiddingstone Edenbridge, Kent TN8 7AH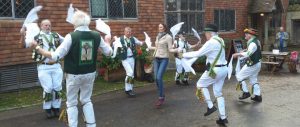 ---
Saturday 6th October – Cranbrook Apple Fayre
11.00am Cranbrook Apple Fayre, Cranbrook High Street, Cranbrook, Kent TN17 9DT
Saturday 24th November – St Matthews Church, Croydon

12 noon. St. Matthews Church, 1 Chichester Rd, Croydon CR0 5NQ
---
Saturday 8th December – Christmas Festive Day of Dance
10:30am to 4pm Dancing spots around the South Bank, London Bridge area
(details)
---
Wednessday 26th December – Boxing Day Tour
12.45pm. The Harrow, 309 Farleigh Road, Warlingham CR6 9EL
---